Easily store your boat year-round with a boat house track system
Best way to store your boat
Fits almost any terrain and grade
Installs in new or existing boathouses or on shore
Eliminates winter storage costs
No need for boat trailers
Photo Gallery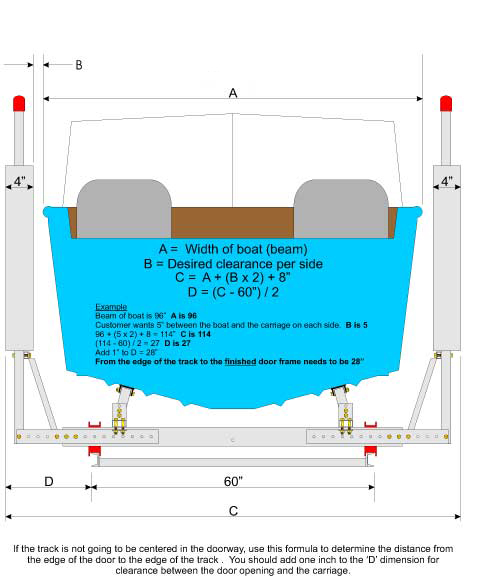 RGC Marine
If your waterfront access is less than ideal for a boat lift, RGC Marine's Beacher Railway Systems can make a big difference. For shores with 5 to 15 degree slopes or in areas with restrictive building ordinances, these systems allow for easy entry and exit from the water and require minimal maintenance.
RGC Marine Beacher Railways feature:
40' of aluminum track on all 4,000 lb models and 20' of track on all 6,000 lb models, with additional sections of track in 10' increments in both aluminum and galvanized steel
Pivoting bunks on all AR4000 models and double pivoting bunks on all AR6000 models
Optional electric power drives, remote controls and push-pull drive
Pontoon deck brackets and cradles available for some models
Roll-N-Go
Various winch options available
Fully-adjustable
Marine-grade aluminium
Stainless steel fasteners
Solid aluminium wheels
Carpeting pads securely holds the boat without scratching
Customize with track extensions, leg and angle kits
Choose your winch:
Manual
AC Winch w/Cordless Remote
DC Winch w/Cordless Remote
Choose your bulk set:
Standard
High Bunk
Pontoon
Choose your accessories:
9' Track Extension
Solar Charger for DC Winch
Angle Connector
Leg Kit
Boathouse Door Spacer Kit
QUICK SPECS
MAX WEIGHT CAPACITY
4,200 lbs.
WEIGHT
Approx. 500 lbs.
TRACK 36' LONG
42"W x 36'L
ROLLER TYPE
4 Solid Aluminum Double-flanged Wheels
ROLLER BEARING
Greasable Axel
CONSTRUCTION
Aluminium
HARDWARE
Stainless Steel
WINCH
Various Deadlift Rating
50' - 100' Cable Length*
Upgrades Availbale - Various Options
*Length depends on winch selection
"Good people! I would always give them a shot for my business!"
– Michael F.
"Very good service. We are pleased! Thanks." – Jeff W.